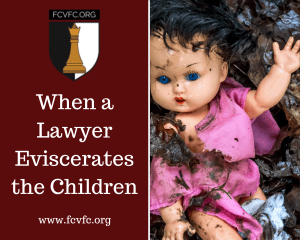 To: Attorney Jennifer P
CC: Managing Partner
Re: Complaint to Bar Association: Notice of Intent to Sue on Behalf of Multiple Litigants
From – Jill Jones Soderman
Executive Director
Foundation for Child Victims of the Family Courts
The complaint against you
Please be advised that we have been approached by a series of clients with whom you have been engaged in litigation.
This litigation must be described as thuggery, an abuse of the legal process in a manner that is carnal and sadistic, knowing no decency, civility, or basic humanity.
We are fully aware of the tactics that you appear to have embraced over and over again, namely the tactics of witness intimidation, threats, evidence tampering, defamation, and libel.
The litigation process in the family courts, the so-called practice of law, has become a blood sport, a practice of pandering, child trafficking, and pure racketeering, orchestrated by mostly old and mostly white men and by young women who are more cruel than any generation that preceded them.
You have marched your victims into the streets for public display and then bled them dry and ripped them to shreds.
Your opponent then . . . and now
You have formerly dealt by obfuscation and intimidation with distracted pedestrian attorneys.
These attorneys failed to take hold of the opportunity to sue you / your firm for witness intimidation and civil rights violations, reachable in state criminal statutes, as well as Federal Civil Rights actions.
But now you are dealing with the Foundation for Child Victims of the Family Courts.
How we will proceed
The Foundation for Child Victims of the Family Courts is referring our clients to The Foundation for Family Law in the Public Interest, a public interest law firm.
We will also be documenting the case in film, with a crew who has covered the world dealing with the stories of children whose families were slaughtered and the children recruited as soldiers in brutal wars.
The "Lost Boys" walked thousands of miles to evade being forced into military slavery. You and your firm are about to meet the survivors, the boys now men who have found homes and constructed lives.
The ruthless, needless brutality to which you subjected others will be put on display in court and on film.
What we will accomplish
We look forward to helping the significant number of clients who have suffered under your sadistic plundering of their careers and livelihoods, as well as their children's legacies, and even their children's lives and the lives of various loved ones.
Those subjects, drawn from the living dead whom you squeezed, strangled, bludgeoned, and decapitated, are about to return as your worst nightmare, or the nightmare of nightmares that you have not yet begun to dream.
We look forward to doing to you what was done to them, case by case, individual by individual, story by story.
I suspect that many of your current victims may well become our future clients.
We look forward to meeting you, levelling the playing field for future generations, and making sure that there are no further lawyers of your ilk.
We will be publishing about the activities of both your firm and ours.
Jill Jones Soderman
Executive Director
Foundation for Child Victims of the Family Courts