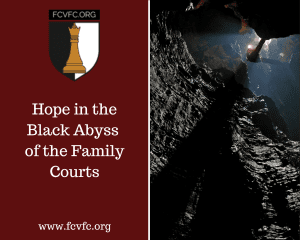 When the abyss is too wide and too deep to be breached . . .
When innumerable children continue to fall soundlessly into the black hole without hope of rescue . . .
We go to the only place where light penetrates and hope is assured.
Investigative Journalists.
In the Connecticut Case in question, Detective William DeGoursey of the Madison Connecticut Police Force is in charge of the case.
He has been called upon multiple times to rescue the children who have been isolated with their abuser, but he has not done it.
Instead, he has helped those with authority to bury critical evidence, and he has kept the children from bearing witness to the crimes that have been and are being committed against them and others.
Further, Detective DeGoursey, along with his Madison Connecticut Police Department, has been threatening the children's mother, discrediting her and making her fear for her own life.
Her attorney representation has not only been useless, but has continued to strengthen the abuser and the court actors we allege the abuser has been paying off.
The weakness of the children's defense strengthens the hands of the abuser cluster and drains hope for rescue.
Convinced of the impenetrableness of the wall of silence we now face, we call upon the only megaphone we have at our disposal: the free investigative press for free speech in the public arena for the public interests.
These children for whom we advocate must be freed from the custody and lawless isolation of their abuser, turned over to their Protective Parent, restoring to her all rights and privileges of parenting and child protection.
Following is the letter I recently wrote to Detective DeGoursey.
*****
Detective DeGoursey,
As I have not heard from you with regard to any form of reassurance as to your fulfillment of your responsibility to the three [names redacted] children, I continue to have no confidence in your integrity.
Please be aware that I have contacted reputable, fearless journalists with whom we have worked over the years and have supplied the types of records and proof of corruption that pervades the Grossman/Hurwitz court that continues to place the lives of these children in danger.
The combination of incompetence of their current legal representation via their mother, who is terrified beyond imagination, with the overall massive corruption implicit top to bottom in the Connecticut legal system, there is no place to go but to fearless, comprehensive investigative journalism.
I am writing to you in hopes that despite past betrayal you will find it in your own interests to make sure to get these children to safe, legitimate proper forensic evaluation at Children's Hospital – immediately!
I will be following your every move and every move of all of the inveterate criminals with whom you are engaged. I will make sure that the investigative journalists will make their way into all of the dark nooks and crannies.
I believe this will make it clear to you all that you can run but you cannot hide.
Jill Jones Soderman
Executive Director and Forensic Advocate, FCVFC