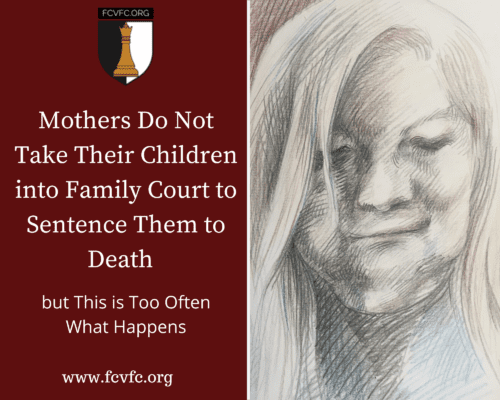 by Guest Contributor (a mandated reporter of child abuse)
Calling it a "death sentence" may sound extreme, but the numbers say otherwise.  Of the 500 or so children who are murdered by their parents every year in the United States, around 90 are those whom family courts have forcibly placed with the abusive parent in contested child custody cases.  The latter number is most certainly an underestimate, and it does not include suicides by children for whom court-mandated "imprisonment" with the abusive parent has become too unbearable.  For every death, there are dozens of serious injuries, and almost universal psychic suffering.
Child abuse is common in the United States: 1 in 7.  This is an underreported figure, and even when child abuse is reported, people understandably do not wish to believe it.
However, few settings disbelieve it as much as some family courts, which act overwhelmingly on the assumption that it does not exist.  Assumptions that a parent is "alienating" a child against an abusive parent, disproven in all scientific circles, is said to be more harmful than the abuse itself.
Even though the rate of false reports by mothers is less that 2 percent, courts routinely treat them as false reporters, punish them, deny them visitation, and imprison them.
The true offender, usually the father, not only goes free but is rewarded with custody in 75 percent of contested child custody cases.  Evidence does not count here as much as in criminal courts, and criminal cases are often referred back to family courts if there is an open case.  The family court system has thus become the abusive father's paradise.
Few in the public suspect that family courts could be so irresponsible as to ignore the greatest risk to children, and yet that is what is happening, more often than not.  Privileging "fathers' rights" over children's wishes results in abused children going into family court, if not to their immediate deaths, to a lifetime of torment, emotional and physical problems, and a shortened life.  This is especially so because, too often, fathers previously uninvolved with their children use custody challenges to continue tormenting mothers trying to escape their abuse, and hurting the child hurts the mother.
Ignorant of these dynamics, family courts fall right into their manipulation.  I call this "sentencing," because the court's intervention strips away any of the usual protections of the protective parent, extended family, other caregivers, and even criminal justice and law enforcement.
As a result, family courts are coming to look more like destroyers of families.
Not all judges abuse the privilege of impartiality and respectability that is bestowed them, of course, but some do.  The one in New Jersey I happened to gain a glimpse of is said to be one of the worst.
As a mandated reporter of child abuse, I was astonished to come across a courtroom in New Jersey that seems to know no bounds in violating the law (family courts are only loosely bound by the law, but this court seems to see it as an avenue for its abuse).
As a third-party observer who has considerable experience with the nation's courts, and given this courtroom's history of using "seals" to cover up its tracks in criminality and child endangerment, I have asked a party in a particular case to report to me.
The information will be going straight to the prosecutor's office, and the reporting party is immune from civil or criminal liability, since reporting child abuse is mandatory in New Jersey and supersedes any "seal."
"The father's abuse was bad, but family court made it a thousand times worse," according to the mother in the case.  She can no longer call on the police or get a restraining order, as the same court rules on all these matters in the same direction: believing the father and disbelieving the mother.  Indeed, these cases are not only the most dangerous for children, they are dangerous for the nonviolent parent.
A kicking and screaming child who locks herself in her room, even tries to burn down the house saying that she would rather die than go to her father, is police-escorted to him and denied a psychiatrist.  If she does it again, full custody may be transferred to the father, as has happened when the child wrote a suicide note asking to "stop dad."  Months later, she is still denied a psychiatrist.
The judge, meanwhile, is trying to place the mother under conservatorship for not saying the things the judge wishes to hear.  It does not matter that the mother has no history of mental problems whatsoever, while the father has been diagnosed of a dangerous personality disorder and has been deemed a threat to the children by two separate, nationally-renowned forensic psychiatrists with Columbia and Harvard affiliations.  The judge is effectuating her desired results while avoiding a single trial.
Such an upside-down world sounds like perverse fiction, but this has actually happened in this courtroom in New Jersey, and is happening all around the country.
We learned from other cases under this judge that accusations of violating a "seal" is a common tactic in this courtroom.  The reasons for a seal are never mentioned, and the affected party never notified; in the above case, accusations came before the placement of a retroactively-dated seal, initiated by a guardian ad litem's perjury.
These are not just violations but are contrary to the spirit outlined by New Jersey's own "policy of open access to records of the judiciary" (Rule 1:38-1).
If family courts were subject to proper oversight, they would not so easily become the handmaidens of abusers.  When parents are fighting over their children, which is less than 4 in 100 divorce cases, there is nearly always domestic violence or coercive control.  Given these circumstances, safety should come first.
When judicial abuse is causing death, and placing children at the risk of death, we cannot remain silent.  We ask others to come forward, also.