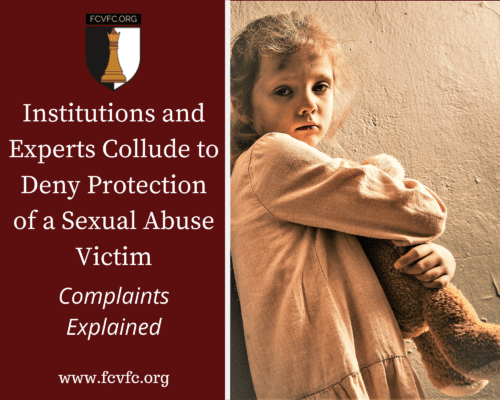 Why does the FCVFC continue to bring complaints against individuals from a variety of disciplines and areas of authority and expertise?
We want governing authorities to recognize the collusion among personnel ostensibly involved in the protection of children—a collusion that is putting those children in grave jeopardy.
In this case, our complaints are leveled against certain authorities and experts in Chicago, Illinois, and are being sent to the Hospital Licensing Commission,  the Medical Licensing Board, the Social Work Licensing Board, the Director of the Division Of Children and Families and to the office of Governor JB Pritzker.
These particular complaints provide an overview of a pattern of collusion that has attempted to derail heroic efforts to protect a very young child from brutal physical and sexual abuse. The blood-sport-level battle that has and continues to ensue to undermine, derail, discredit the child, the witnesses and experts who have and are continuing to fight for her safety is unconscionable.
Not only is the battle raging in this case immoral, unethical, despicable beyond words–it is typical of the epidemic of pandemic depth and breadth of accepted perversion, theft of innocence traded for commercial gain in the form of "Dark Money" that haunts Custody Litigation in Chicago and across the U.S.
Child sexual abuse exists in a pattern of behavior that is demonstrable with the evidence of any basic psychosocial history. Attempts at ignorance and the arrogance of experts who feign arguments to discredit the evidence of child sexual abuse has and continues to eviscerate generations of children and poison the cultural, collective well of democratic society.
The bloviated arguments of experts are nothing more than expensive excuses for defamation, fraud, extortion and payoffs in plain sight. Custody litigation involving the defense of vulnerable children—sexually abused but headed for isolation in the hands of the abuser—has become theatre that enriches the trove of torturous testimony for the audience of psychopaths pronouncing death sentences for legions of vulnerable children across the U.S.
These complaints are meant to stimulate investigation into the institutions noted. It is our hope that the massive amount of evidence within the control of lawyers and experts engaged with this case may be put to some useful purpose related to cleaning up the cesspool in which our children and their Protective Parents are drowning.
This one little battling victim stands as a representative for these others, clients of the Foundation for Child Victims of the Family Courts.