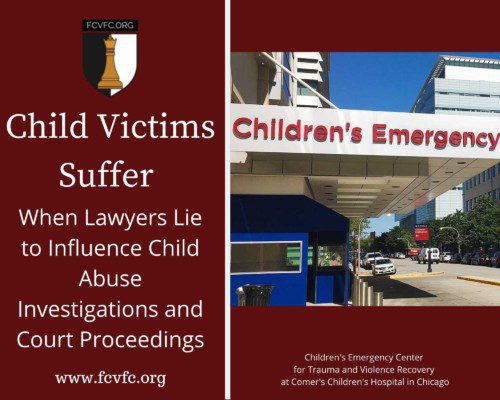 Below you can read Complaints that have been written directly to the identified culprits of fraud and collusion involved in suppressing evidence of massive child abuse. Blaming a Protective Parent for "coaching" is, of course, connected, as their activities are graphically traced and exposed. Several of them are with Comer's Children's Hospital in Chicago.
Key figures in a coordinated attack on a parent and child, directed at transferring a child into the hands of an abuser, are called out in a detailed documentation of what they did, how they did it, and how experts of the FCVFC are seeking to stop the carnage in the courts.
There is carnage, decimation of children's lives, as well as that of Protective Parents who are devastated by what they must stand by and witness as being done to their children.
With a gun to their heads in the form of court orders by judges, they must obey the unthinkable or lose their children and often, their freedom as well. These judges, with no idea of and/or no interest in the calamities they are enacting, are unopposed in family courts across the country, facilitated by lawyers who lie, suppress evidence and sometimes participate in developing a wholly false narrative of events.
The carnage is further facilitated by court actors in the persons of GALs, Parenting Coordinators, and so-called therapists, who force children to interact with the abusers in the form of "reunification" programs. Of course the children should have never been re-exposed to these abusers after revealing abuse that should have been substantiated simply by the profound behavioral and emotional symptomatology clearly present in all children exposed to abuse.
Many employees of schools and hospitals, particularly social service components of hospitals have themselves been brainwashed, having drunk the koolaid of programs packaged for maximum commercial advantage
One of these is the Association Of Family & Conciliation Courts (AFCC) a nonprofit originally with a noble mission of training and bringing experts of many fields together to share idea and expertise. But an experiment in good will turned into a financial windfall, a complete commercial home run, as the potential for winning cases was recognized in the spurious, wrong-headed (as in perverted) conceptions produced by Richard Gardner MD.
Catchall phrases and quick assessments and diagnoses emerged from the dogma associated with terms such as "parental alienation" and "coaching" and "brain washing," terms fraught with meanings that go unexplored, undocumented yet implemented on an assembly line construct by court factotum who in iron clad proceedings destroy children, families of all who love them, while creating devastating social consequences that thoroughly undermine the workings of a democratic society.
The coalescing of forces of anti-intellectual, anti-scientific, hare-brained concepts with autocratic court functions undermine the rational, intellectual processes of evidence, diagnosis and treatment, when imposing false venally destructive assessments that serve to punish innocents for the crime of telling the truth.
The Complaints published below lay out, in real time and in real life, crimes that have been ongoing in a court process that has been documented and demonstrated to be filled with lies, larceny and court manipulation. The confrontations in various court proceedings, police intervention and the obstruction of such police intervention must be made public as an example of the same events going on thousands of times per day across the country under the imposed secrecy of sealed records, ex parte lawyer/judge conferences – otherwise known as backroom deals.
Lives are being destroyed in massive numbers, and this must stop.
*****
To:       John M. Cunningham, MD
Chair, Dept. Of Pediatrics
Physician In Chief
Comer's Children's Hospital
Cathy Garvey, Esq.
Legal Division UCMC
Associate General Counsel
Executive Director, Professional Liability Plan
20 North Upper Wacker Drive #1040
Chicago, IL 60606
Cathy.Garvey@uchospitals.edu
Emily Chase PhD, RN
Chief Nursing Officer, Sr. VP
University of Chicago Medicine
5841 S. Maryland Avenue
Chicago, IL 60637
Jon Chapman, LCSW
Executive Director, Care Coordination
University of Chicago Medicine
5841 S. Maryland Avenue
Chicago, IL 60637
Office of Inspector General
Chicago Office
740 N Sedgwick St
Chicago, IL 60654
217-782-6655
Dept of Children and Family Services
2240 West Ogden Avenue
Chicago, IL 60612
dcfs.oigcomplaint@illinois.gov
Marc D. Smith LCSW
Director, Dept of Children and Families
406 East Monroe St.
Springfield, IL 62701
217 524 2029
Lester Barclay, GAL
Barclay Law Group PC
3525 S. King Drive
Chicago, IL 60653
111 West Washington Street Suite 1042
Chicago, IL 60602
312-553-0123
Fax – 312-786-4775
barclay@barclaylawgroup.com
scastile@barclaylawgroup.com
Cory Blalock, Esq.
120 North LaSalle St. Suite 1030
Chicago, IL 60602
312-372-1639
Fax – 312-372-5606
Cblalock@abmfamilylaw.com
Catherine Postillion, Esq.
1055 West Bryn Mawr Ave. Suite G
Chicago, IL 60660
773-271-5750
cpostilion@ameritech.com
Presiding Judge Raul Vega
CC Judge William Stewart Boyd
555 West Harrison Street, Suite 4400
Chicago, IL 60607
312-325-9017
Kurt Muller Esq.
The Muller Law Firm
110 W. Grand Ave.
Chicago, IL 60654
312-467-6700
kmuller@mullaw.com
Illinois Psychology Licensing Board
555 West Monroe Street, 5th Floor
Chicago, IL 60661
1 (888) 473-4858
Kerry Smith, PhD
555 W Monroe St, 5th floor
Chicago, IL 60661
1-888-472-4858
Office of Violent Crimes Against Children
Detective Izabella Figus
Illinois Dept. of Health
Office Of Health Care Regulation
Central Complaint Registry
525 West Jefferson St.
Springfield IL 60661
312 814 6910
Dept. of Finance & Professional Regulation, State Of Illinois
Enforcement of Complaints & Investigation
555 West Monroe St. Suite 500
Chicago, IL 60661
312 814 6910
Office of the U.S. Dept of Justice
Merek Garland, Esq.
950 Pennsylvania Ave. NW
Washington, DC 20530-0002
202 514 2000
Amanda Wolfman Esq., Chief Legal Counsel
Dept of Children and Family Services
160 N. LaSalle St. 6th floor
Chicago, IL 60601
312-814-2534
Illinois Department of Public Health
(University of Chicago Med. Center)
Office Of Health Care Regulation
Central Complaint Registry
525 W. Jefferson St., Ground Floor
Springfield, IL 6276-0001
CCRH 800 252 4343
Fax 217 524 8885
Bar Association
424 S. Second Street
Springfield, IL 62701-1779
1 800-252-8908
Office of the Governor, State of Illinois
James R Thompson Center
100 W Randolph, 16-100
Chicago, IL 60601
312-814-2121
312-814-2122
Re:       [Client] Case – Human Rights Violations – continuing fraud and malfeasance complaints on behalf of protective parent and child subject of abuse – ongoing investigations into staff & institutional violations of parent and children's rights
Complaint against Comer's Children's Hospital staff, medical professionals, director, social workers
Complaint against the Department of Children and Families
Complaints against Court Actors Who Have Violated The Responsibility To Protect The Child and The Protective Parent
From:  Jill Jones Soderman
Executive Director, Foundation for Child Victims of the Family Courts
Please be advised that the investigations and complaints against your institutions and staff members are continuing, deepening and broadening into full institutional review. Evidence now in our files will be seeking to develop lawsuits against palpably guilty subjects in their personal and professional capacities because the ongoing circumstances of hard evidence of sustained emotional, physical and torturous abuse of the named child has been so egregious, so sustained by false allegations against the child, her protective parent, that the conscience of any reasonable man cannot entertain the levels of fraud, collusion, malfeasance, suppression of evidence that your institutions have been culpable of enforcing and subjecting this child to ongoing heinous act of abuse.
The medical records and full medical files from your institution are being reviewed by forensic MD experts, not only skilled in diagnosing child sexual abuse but also skilled in evaluating institutional fraud, suppression of evidence and manipulation, collusion to suppress evidence of child abuse.
The first physician substantiated the abuse when she examined the subject child at the age of three. That MD documented extensive symptomatology, unexplained vaginal bleeding, pain and pressure during urination, rashes on her groin, palms of her hands, mouth, legs, swollen areas in the groin, and more. She filed a sexual abuse charge  based on physical symptoms and actions by the father described by the child.
The MD made a report to DCF, but following a call from the attorney for the child, the MD retracted her finding. Interactions with the "authority" figure who intercepted the substantiation of abuse  impacted reporting by  hospital social workers, a false narrative that then was communicated and reiterated by DCFS workers over the next two years.
The distortions caused by the court appointed "representative for the child" can be credibly documented through the suppression of evidence that was critical to the dynamic between the accused abuser, his mother, and his new wife and baby. Affidavits of multiple events by a variety of reporters described overt sexually provocative behavior between the child's father and his mother as well as violent aggression between him and his young wife, in the presence of his child.  Affidavits and interviews of independent eye witnesses to domestic violence on the part of the child's father and aggressive behavior toward mother and breastfeeding infant were given to the psychological evaluator of the bio father and mother.
The report /evaluation written by Kerry Smith, PhD not only left out a large number of Affidavits and various interviews which describe in detail what they knew and how they knew it, but following communications, documented through the billing and activity schedules of the Smith report clearly indicate that with the interaction of the "attorney for the child," the so called "child representative," all references to domestic violence, sexual abuse, corporal punishment of a toddler baby and other forms of abuse are absent from the file. The evaluator goes so far as to recommend joint custody of the child.
The further facilitators of support for the child were the now-terminated prior attorneys for the mother, who worked closely with the child representative, and the psychological evaluator. The attorneys for the mother, upon being consulted about an incident that involved the child being subject to oral sex by the father, instructed the mother to give the child "an oatmeal bath" before taking the then about three-year-old child to the emergency room. The mother was instructed to not tell anyone about the oatmeal bath. The prior attorneys for the mother aggressively advocated for the mother to allow visitation and joint custody of the child with the mother.
Among the concerns generated by dealing with your staff social workers was the discredited refrain put forth from the discredited theories of Richard Gardner MD, stating that children and mothers lie about abuse and that mothers file false complaints to gain access to sole custody. It was clear that both mother and child were easily written off and dismissed as not credible when in fact both victims are extremely credible and seriously victimized.
The subject child's first outcry was on or around April 4th, 2020, to her mother when her maternal grandparents were also present. The grandparents called the attorney that the mother had been speaking with about the domestic violence. As the subject child continued to make statements about "Daddy's bad touch," and as two therapists urged the mother to call DCFS, the mother did so. No one returned the mother's hotline call. The child had no idea that she was describing behaviors that were indicative of sexual abuse. She articulated that she did not like her father's kissing her vagina and touching/grabbing her vagina. Her reports were made in a completely naive manner.
The subject child has "outcried" at least nineteen (19) times since April 4th, 2020. Her statements are clear, and no detail of the abuse is left out of her communications. At least nineteen reports have been submitted to DCFS and specific workers have met with the child, stated directly to the mother "believe you" and "I have seen worse – like with peppers being used to cause burning in the vagina," but this will be followed by, "You are in a custody situation. You are filing these complaints about her father. You had better shut this kid up and stop her from complaining, and then when she is eighteen she can lodge a complaint against him, but until then, you better just get her to suck it up and be quiet." These statements are well documented and reported in a timely manner. This child has clearly related events to therapists who have reported to DCFS as Mandated Reporters, and DCFS has turned the complaints away.
Nineteen plus outcries. Medical reports from Comer's where the child is referred by DCFS, Police, following Body Camera testimony, Therapists seen, substantiated for sexual abuse, horrendous acts described, where one particular worker is said to have stated. Comers medical staff have substantiated sexual abuse, contacted DCFS. Following the contact the attorney for the child, Cory Blalock, makes a call, with written permission from the family to call whomever he has requested permission to call.
Following a call from the attorney for the child – that is, the child representative, the person assigned by the court to protect the child—following his calls, we can document the trail of unsubstantiations. The Blalock/Comers staff conversation is not documented, but we can trace the calls that immediately followed from Comer's staff to DCFS staff regarding the "unsubstantiating" of the already substantiated reports.
DCFS is not the only agency that Blalock has been engaged with. There is a clear record of interference  with viewing VSI videos, then sequestering those videos and falsely reporting that there was nothing on the videos of concern, when the facts showed that the opposite was clearly true.
Judge Maritza Martinez was pressed into viewing those videos as per complaints from the FCVFC, and upon finally viewing one of several VSA videos of the subject child revealing some of the abuse to what she had been subjected, Judge Martinez promptly recused herself from the case.
In a hearing seeking the removal of Blalock from the case, lawyer Catherine Postillion aggressively and successfully advocated for Blalock's presence in the case, as she repeatedly does in all attempts at removing Blalock. This is the same Blalock who consistently defends the accused abuser when he is supposed to be the attorney / representative of the child. This is the child who has been reported as experiencing terrible suffering as per her full, graphic statements describing the abuse she has sustained in the presence of both the father, his mother and the so-called supervisor who replaced the father's mother. This paternal grandmother was assigned to be the father's supervisor until she was credibly accused of joining in terrible acts of abuse against the child. The father's obdurate insistence reflects an obsessed appetite for gaining physical access to the child over her rejection and over a drive to exonerate himself of charges.
In the hearing to remove Blalock from the case, Judge Shapiro recused himself when he was forced to become aware of facts previously sequestered from his fact gathering. But Attorney Blalock continues as a blight on the legal system and a danger to the general public. Instead of being removed and disgraced attorneys Blalock and Postillion continue to aggressively, successfully advocate for the child sexual abuser, publicly fist bumping, publicly, openly gleeful as they obstruct the will of the protective parent and child.
We also want to know how a truck driver who works for a delivery service pays the high-priced fees for attorneys who are at every turn, every event, even events anticipated, they are present. Blalock and Postillion aggressively exonerate an individual who is documented inside out, upside down in pictures, affidavits and multiple disclosures to be culpable of heinous acts of abuse and cover ups of abuse.
Comer's Children's Hospital staff ignorantly and recklessly repeat the mantras of "coaching, alienation, brain washing," garbage theories thrown out by every psychiatric oversight authority and any expert who has any ethical competence to exert authority. The chorus of ignorance and stupidity is breathtaking as to the level of incompetence and danger to children in the community.
Complaints against Comer's Hospital social work staff have been blocked by the director of social service of the children's unit. When spoken with about the problem she failed to follow up on the complaints against multiple workers on her staff and never returned phone calls.
Comer's director of pediatric services referred complaints against her physicians to the legal liability department, as complaints were filed against several MDs, with more to be added to the list as we continue to review records and locate additional MDs who acted with amazing discretion to assert that acts of abuse simply could not have occurred.
To say the least, we who have examined the facts, the documents, the videos, the clinical picture and more, we are outraged, incredulous, appalled at the behavior, insensitivity, ignorance, arrogance and pure irresponsibility of medical professionals.
To say that the experts associated with the FCVFC are beyond disgusted with the antics, the abuse of power, the clear and present danger to the community that these institutions represent should be clear. That which must again obviously be made clear is that we will not stop in our pursuit of our demands for reform in the areas of child protection, and our efforts will be relentless and unstoppable.
The Child was seen and substantiated by a Body Camera interview that produced an immediate warrant for the arrest of the father, who was in fact arrested and was documented as repeatedly taking action during the lie detector test to disrupt the lie detector process.
Constant substantiations and then records suddenly unsubstantiated after a call from the Attorney For The Child who appears on the scene every single time the father /abuser is substantiated for perverted acts of child sexual abuse. The accused abuser when arrested, his first outcry was -CALL CORY BLALOCK (the court appointed attorney for the child) who shadows cries of abuse and undermines the reporting, sequesters indicting VSI tapes whose late disclosure resulted in the recusal of a judge who cooperated with the attorney for the child, protected the father's ongoing abuse and allowing ongoing, ever increasing in perverted acts, the sexual and emotional abuse of the child.
The experts associated with the FCVFC agree that the level of sexual abuse and demands for interaction with her abuser, disinterest in the child's terror and deterioration are not part of a protocol for documenting and treating child sexual abuse. We have substantial, full documentation of what is going on with this child and the level of rather bizarre, disturbing acts of negligence, distortion, denial on the part of practitioners that constitute collusion with the abuser and endorsement of child torture and ongoing abuse. The investigations and complaints against staff are continuing as are investigations into the institutional structure and history of legal filing for unwarranted deaths of children or negligent supervision of staff are being reviewed as lawsuits to be filed against these institutions and their staff members of these institutions.
Physical and lifelong emotional trauma/injuries by our child client will be looked at through the lens of awareness of children who have not survived the negligence, arrogance, ignorance and insensitivity of the family court factotum that processes children as if being sent through a meat packaging assembly line. Thorough institutional review of is undergoing by our own privately retained team of experts who accredit institutions and engage in compliance oversight. Please be advised that no MD, Social worker, DCF Caseworker, lawyer, or administrator will escape our intense review that has not stopped since my last communications with you.
The failure to protect this child and the willingness to coldly vilify this child in a detached, calculated, uncompromising meanness cannot and will not be tolerated.
The suppression and/or falsification of evidence, lying to mandated reporters investigating the case and refusal to integrate material placed before you with regard to ongoing claims is coupled with a sustained willingness to accept as credible anonymous claims that are on their face more than ridiculous.
Such a claim presented by DCF fantasized that a nine-year-old girl was being thrown against a wall and was screaming at the residence presumed to be that of the mother of the subject child, who was four years old at the time of the anonymous complaint. This anonymous complaint was investigated with aggressive certainty that there was a nine-year-old abused child someplace in that two-room apartment!
This investigation was nothing less than bizarre, as evidence-based information dismissed the anonymous complaint, but the cast of characters from DCFS involved in the complaint held onto the complaint in a truly paranoid, bizarre manner that did not appear to resolve. The idea that the mother was throwing a nine-year-old girl against walls somehow persisted, though given the absence of a nine-year-old girl and the configuration of the apartment and the residents throughout the building, the accusations was absurd.
DCF caseworkers do frequently come into contact with bizarre, sadistic, perverted behaviors, but in this case they were labelled as "impossible," yet workers brought up other cases of similar kinds of brutal abuse to which children were subject. The staff engaged with these abusers appear to think that because they say nothing happened, there is no evidence, that declaration is to be taken at face value, in spite of the fact that there is hard evidence in multiple forms that has been preserved and validated.
It is extremely important that you and your staff are fully aware that work is continuing and expanding into the broader connection of institutional culpability for collusion between the University of Chicago / Comer's Medical Staff, MD's, social workers, including the Director of Comer's Social Service Department, multiple DCFS caseworkers and supervisors who worked to suppress and deny evidence and suffering. The evidence will not be denied, suppressed or avoided.
The unconscionable, destructive actions of these institutions and their staff will not be denied, and consequences will be effectuated as the community of conscience and like-minded citizens will be made aware and will act in the best interest of their children and all who love and care for them.
Jill Jones Soderman
Executive Director, FCVFC
Administrator, Foundation For Family Law In The Public Interest (FFLPI)
*****
To:     Jon Chapman
Director of Social Services Dept
Comer's Children's Hospital
University of Chicago Medical Center
Re:     Protocol in [Client] case
From: Jill Jones Soderman
Executive Director, Foundation for Child Victims of the Family Courts
Please be advised that I have attached a letter of complaint addressed to multiple parties seen as complicit in violating a responsibility of care and protection against physical, emotional, and sexual abuse of a now five-year-old child. This child has been subject to well-documented sexual and physical abuse since, as first reported, when she was three years old.
Social workers in your department have been guilty of disseminating fraudulent, specious debunked theory, first generated by Richard Gardner, MD. The theories of Richard Gardner developed to create probable causes of doubt in the defense of men charged with incest related to child sexual abuse gained favor in family courts powered by charges of "parental alienation and coaching," which became buzz words to override proper interview and investigation skills. Charges of child abuse in any form, though particularly abuse of young children, require greater investigation, skill and intellectual competence than that called forth by buzz words of "coaching" or "brainwashing" that gloss over complex emotional and behavior sequelae always present in a pattern of abuse at all ages.
This case has been diligently, professionally analyzed, investigated, studied and documented by professionals whose competence is nationally and internationally renowned as to expertise in child abuse and child torture. This child has been diagnosed as a subject of ongoing abuse and torture.
Several social workers in your department joined the charge to report to the Department of Children and Families information first found to be substantiated for child sexual abuse, whose stories then changed after speaking to the attorney – representative for the child, not a physician or any form of medical/psychiatric practitioner, but rather an individual who was facilitated in working against the interests of his then three-year-old client and her terrified, suffering mother.
When I first contacted your assistant director, Ms. Erin Schwas, it was to file complaints against specific staff members with the state licensing board and to recommend to her that she seek proper professional training for your staff. I also made this recommendation to other members of the UCMC administration. Ms. Schwas made the mistake of never returning my call or emailing me with regard to the information requested.
Your staff, including Ms. Schwas, apart from being rude and dismissive, despite each party's apparent arrogance and ignorance and basic insensitivity, have expedited the dissemination of not only false information, but information that compounded the seriousness of charges against the mother of this child as well as the child. Their indescribable recklessness and stupidity found their way into court testimony through the charges of the attorney for the child's abuser, the files of DCFS (another thoroughly, brutally inept and incompetent bureaucratic factotum) and into court testimony attempting to block the appearance of experts who in fact know what they are talking about.
Your arrogant, ill-trained staff suggested a diagnosis that has criminal implications and for which the subject mother does not meet even the most basic criteria. The unfounded statements of your staff were in fact countered by clinical, psychiatric and police investigations which led to the arrest of the subject sexual/physical abuser of this child, but their damaging reckless behavior in the hands of colluding, unethical practitioners (lawyers) facilitated the Sua Sponte removal of the child from the mother's custody without a court order or even notice of such intent to remove the child into foster care.
This child has been subjected to a barrage of questioning and the indignities of sexual abuse examinations conducted in the "frog position." Now it seems that her outcries and articulation of brutal physical and emotional abuse are being dismissed out of hand. She is now five, and a court is raising "questions and concerns " about the veracity and the competence of the child and the role of the mother as to "coaching" the child into providing information about events that according to your group of geniuses could not possibly have occurred.
As a result of the heinous actions that your staff have undertaken in regard to this child, her mother, her grandparents and a large community of those who are witnesses to abuse of this child and the violent abuse sustained by her mother, your staff and the medical staff of Comer's Children's Hospital and UCMC larger corporate authority will be subject in the not too distant future to the kind of proctological discovery and deposition process that will be the prelude to the damages suits that the experts of the FCVFC are in the process of moving forward.
Jill Jones Soderman
Executive Director, FCVFC (fcvfc.org)
Administrator, Foundation for Family Law In The Public Interest (fflpi.org), a whistleblower law firm