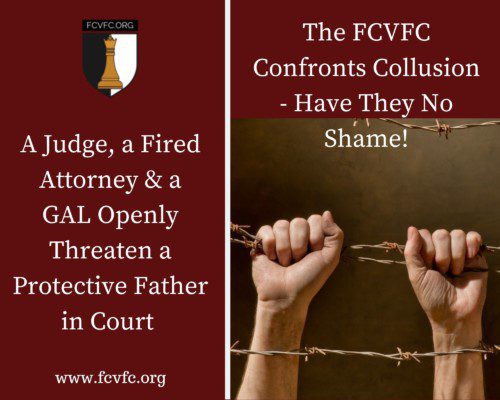 A letter to the appropriate parties in question:
*****
Please be advised that the experts of the Foundation for Child Victims of the Family Courts have been deeply engaged in reviewing the file of the client in question in order to codify and engage in the collection of extensive evidence as it exists in the out-of-court communications and other sources of information that provide evidence of neglect of responsibility for the care and protection of minor children.
This court has ignored the facts related to the children's transport across state lines and isolation in the hands of non-blood relatives as well as individuals who bear ill will toward the children's father. A campaign of "parental alienation" has without dispute taken place, and a heartbroken aggrieved father is blamed for his despair and anger at those who have betrayed his loyalty and trust, lying in a court that failed to authenticate documents or the testimony of witnesses.
This court allowed the presence of an attorney who had been "relieved" of representation (sitting within eye contact with the judge) who forwarded a fabricated, inflated bill to the client, and made threats to his then former client of a brutal, blackmailing nature.
The carnage that took place in this court and to the outrageous, multiple, documented bad acts as well as acts of bad judgment on the part of the Guardian Ad Litem are full and well documented throughout multiple records.
To y'all who betray your northern prejudices, you need to be aware that my own familial and spiritual home hails from Birmingham, Alabama. Our sisters and brothers in Christ throughout the South, in faith and in God are praying for the Foundation for Child Victims of the Family Courts.
A judge who has verbally articulated his disrespect for the US Constitution, Alabama law, and father's rights may very well think that he is above and beyond the law. But we respectfully place our objection to such assertions by "His Honor," as we view his acts and words as an abomination.
Justice for our client will be pursued as referral to the Alabama Attorney General's Office has been approved for investigation and similar oversight authorities will be reviewing every single heinous act of witness threats, intimidation, and blackmail to which our client has been subjected.
We will not rest until all violations of this court are corrected and the lawless failure of this court and all Officers of the Court who have clearly violated fiduciary ethical responsibilities are held accountable for the pain and suffering that will come to the children whose innocence has been violated.
Jill Jones Soderman
Executive Director, FCVFC