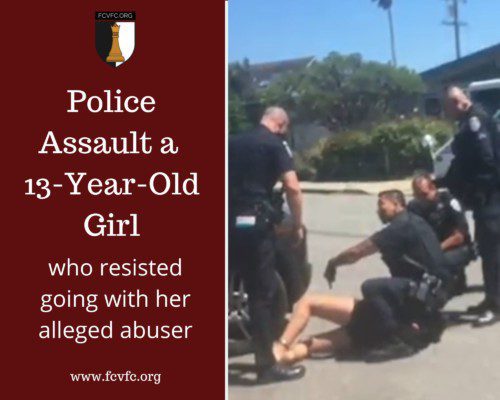 So often, the cries and pleadings of family court victims go unheard. But not this time. This time the cries of this child who did not want to go with the alleged abuser were loud enough to rouse the entire neighborhood as she fought–even against the four police officers who were shackling her–not to be turned over to the parent who was selected by the court with impunity.
We post this article in support of this mother and child and the organization that is advocating for her safe return to her mother, the Family Court Anti-Corruption Coalition.
Quoting from that organization's formal report:
The Mother and Daughter were physically attacked by the child's father in front of dozens of witnesses at the Mother's home in broad daylight. The event was videotaped by at least three individuals, and numerous people called 911.

Although the Father was the aggressor, he was never put in handcuffs or detained. Instead, the protective Mother was put in handcuffs, arrested and the innocent child was brutally attacked by up to 8 police officers who kneeled on her neck, slammed her face to the ground multiple times, handcuffed and hogtied her while she screamed that she could not breathe, that they were hurting her, that she wanted her Mother and that she did not want to go with her Dad.

The child's head was then covered with a helmet, she was injected with a needle and she was illegally locked up for three days, and has not seen her Mother since. This horrific event shocks the conscience and was fully videotaped. It leads [sic] nothing to the imagination. What transpired can only be described as a terrorist kidnapping.
The desperation of protective parents and vulnerable children shows no sign of slowdown, but instead is increasing exponentially.
A recent horrifying trend is courts transferring children to custody of abusers while still giving partial custody to the protective parent, so that the protective parent can in fact be an immobilized witness to the suffering of the children as they are physically, sexually, and emotionally abused.
The change that comes over the children as the abuse continues causes torture for the protective parent as well, the likes of which we have never seen before.
This is macabre family court torture of children and their protective parent. Family court becomes like a reality TV drama, where unspeakable events are codified and forced to become the new normal. Forced by court order into this twisted abuse of "toleration," protective parents are fashioned into helpless witnesses to ongoing crimes.
The Foundation for Child Victims of the Family Courts is doing everything we can to document, expose, and litigate against these heinous family court acts, in every legal forum possible.
This is a criminal situation that should never be tolerated in the United States of America.