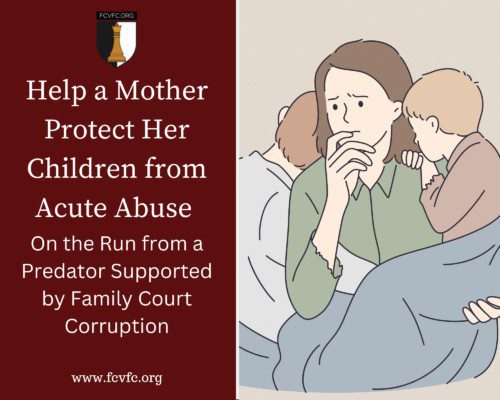 We are raising funds, here, for a protective parent mother.
This is a case that epitomizes the family court genocide. It is a case that speaks for thousands and thousands of others.
A mother denied equal access to the Missouri courts has been denied due process and constitutional rights to freedom of speech.
The Foundation for Child Victims of the Family Courts speaks for this mother and all others subject to family court genocide.
We need funds. We have filed with the Supreme Court of Missouri, and we are prepared through our legal team to seek certiorari through to the Supreme Court of the United States of behalf of this Missouri mother and all courts across the country who are depriving protective parents of equal access to the courts.
This protective parent's fight is the fight of all protective parents who are losing children to psychopathic predators fostered by the criminal actions of family court, officers of the courts, judges, guardian ad litem attorneys who act with full knowledge and authority to transfer children into the hands of depraved abusers
We must raise funds for this case so that this case can speak for millions of other litigants in the same or similar situations across the country.
If we will not speak, then who will?
Funds are going to the Foundation for the Defense of Child Sexual Abuse Victims.
Anyone can contact me, Jill Jones Soderman, directly, at 866-553-6931.