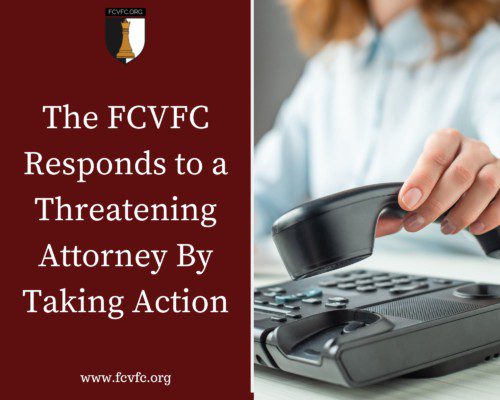 A few evenings ago I received a threatening phone call from a Utah attorney. When I hung up on him, he called back several times. Following is my complaint to both the Utah State Bar and the Salt Lake City branch of the FBI.
When we are threatened, we take action.
***
I am the founder and director of the Foundation for Child Victims of the Family Courts, a 501(c)3 organization as of February 2008. I am a psychoanalyst, psychotherapist, family therapist, mediator, and forensic expert by training and experience.
I am writing to file a complaint against attorney [redacted] as a result of a series of phone calls he made to me on September 21, 2023, beginning at approximately 8:00 pm EDT and over the course of about 15 minutes. He threatened me because the FCVFC has assisted a Pro Se client in filing a protective order on behalf of her four year old son, a subject of repeated violent physical abuse. The repeated physical and mental, psychological abuse to which the child has been subject is documented medically, through DCF and the police. The father is the subject of criminal police charges and criminal investigation. The FCVFC is reporting this case to the FBI both as a complaint against the lawyer for suspected complicity in the criminal acts of the father and his family and as complaints against the court management of this case for child endangerment.
The attorney attempted to threaten me as well as a colleague of mine, [the forensic psychiatrist], MD, as our services have been combined to advocate and seek prosecution on behalf of a 4-year-old child who has been the subject of ongoing unrelenting physical and psychological abuse by his father and his father's extended family.
The child's mother is a well-documented domestic violence victim who has an ongoing domestic protective order. Because of the negligence of her own prior attorneys, the child that should have been included in the protective order was not.
The legal advisors for the Foundation for Child Victims of the Family Courts filed a protective order with the family court on behalf of the protective parent and the child, based on an assault and danger assessment upon review of a legal file that documents multiple serious episodes of assault on the child and criminal activity on the part of the family. Reports to police and Child Protective Services have been filed as well.
I am attaching a 42-page document that outlines the basic necessary information that supports our allegations. Medical and psychiatric documentation are also fully available to support charges of physical abuse of the child. Criminal records related to the father's various criminal charges and crimes are available as well and are being reported under separate cover letters to the FBI.
I wish to note that the attorney against whom these complaints are being filed, represents a family who was brought to the U.S. under the protection of missionaries in Utah, as they were allegedly targets of a drug cartel in Ecuador. Upon information and belief in our review of these records, evidence appears to support allegations that this family themselves may in fact be involved in drug trafficking and in fact involving the child in nefarious acts.
The attorney in question called my office in the evening of 9/22/23 demanding to speak to Dr. Jill Jones Soderman. I gather that he understood that I was not an attorney, much less the attorney for the mother or child. He aggressively began trying to question, to cross examine me in a rapid succession of questions that went unanswered as I began by questioning who he was. The succession of threats and accusations against me were interrupted by my hanging up the phone; his call back, three to four times.
[The attorney] has every right to legally advocate for his clients, to advocate for the protection of his clients due process, constitutional rights. He could have written to me, emailed or faxed my office. Crossing of line to threaten witnesses, advocates for the child's protection, highly trained, credible experts in the field of children's rights, mental states, abuse, crosses a line of ethics and questions the mental status of this attorney. His highly aggressive stance in calling me, much less late in the evening and thinking that he could threaten me with prosecution for crimes questions his reality testing, judgment and level of aggression.
I did contact the police in my community that evening and filed the appropriate reports.
The subject child is highly intelligent and highly articulate. He has been assessed by [the forensic psychiatrist] (whose CV is attached for your information) as being deeply traumatized, anxious, and depressed as a result of repeated documented physical assault. Extensive medical history is well documented in this case as well. Our organization will be pressing for child abuse criminal charges against this father.
My understanding is that the same evening [the attorney] also contacted [the forensic psychiatrist], who is located in New Jersey, issuing the same attacks and threats on her. She also contacted her local police department and filed a complaint against this individual.
Threats and intimidation against mandated reporters and those with an ethical responsibility to protect children will not be tolerated by officers of the court or anyone else.
I will be very interested to see how your office responds to our complaints against [this attorney] and look forward to hearing from you in this regard.
Jill Jones Soderman
Executive Director, FCVFC
Administrator, Foundation for Family Law in the Public Interest