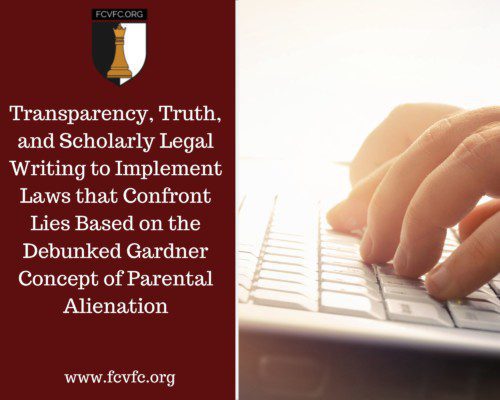 The FCVFC defends Constitutional due process rights of litigants whose children are being used to siphon federal funds to state programs via family court, manipulating Title IV aid to dependent children.
Following is a newspaper article about the lawsuit being brought by a client working with the FCVFC.
***
Resident suing Andover Public Schools for $25 million, alleges civil rights violations
By Teddy Tauscher | [email protected]
Oct 2, 2023
ANDOVER — A resident of the town is suing the local school district over alleged violations of his constitutional rights for no less than $25 million. The suit filed on Sept. 21, in U.S. District Court of Massachusetts, alleges David Howard's rights were violated when school administrators allegedly declined to honor custody rights the suit said he holds over his two daughters.
Howard will be representing himself.
"While many teachers and schools do terrific work, troubling examples abound of what is happening in public schools," said the federal complaint. "Educators should always be mindful of overstepping boundaries. There's this thought process for teachers of having to balance wanting to care for students and being emotionally available, while also not crossing any boundaries. Assumptions about student-teacher relationships and what it looks like when someone may be violating a boundary remain prevalent today."
The filing alleges on Nov. 15, South School Elementary Principal Brenda Lee pulled one of the plaintiff's daughters from class and scolded her for having gone to her father's house from school the previous day.
The plaintiff has two daughters who attend schools in the district.
According to the suit, while temporary orders have affected custody or time spent in the past, no such restrictions existed at the time of the alleged actions, though primary legal custody had been awarded to the plaintiff's ex-spouse.
The suit alleges this "harassment" by Lee continued the following days and caused the daughter to feel "uncomfortable" and "afraid in Lee's presence."
Actions by the principal included Lee allegedly telling the daughter she is not safe around her father. Letters sent in the following weeks informed Howard that he was barred from the schools his daughters attend during the day and during school sponsored events, as well as that he did not have access to their school records, according to the filing document.
Even after providing the District Court with a copy of his divorce judgment. The suit said the restrictions were not lifted.
The 3-page complaint also features sections on corruption in public schools, alleged collusion between family courts and schools and qualified immunity.
A representative for the school system said the district does not comment on ongoing litigation.
Howard responded that he did not wish to comment on the case at this time.