Jill Jones Soderman: My Life as a Resume
Born into a family of two generations of medical practitioners,  my earliest understanding was that one's medical training began essentially from the beginnings of life and that formal medical education began as soon as one was able to read and explore science. Microscopes, thermometers, medical books with pictures illustrating deformity, disease, and cell structures surrounded me. Trips to my father's hospital, time spent in my father's extremely busy medical practice, introduced me to the population of patients of all ages, little children through the elderly, treated for medical, psychiatric, and social problems. My father was part of the military board that certified or excused men for military service. His practice was active 7 days a week, 24 hours a day, with a staff of nurses and assisting physical therapy, massage, and laboratory staff.
I found my place in the office, in service with children as well as simply another pair of hands to assist in whatever tasks. I was employed at the private hospital that was founded and directed by my father, The Memorial Hospital of Queens.
Early schooling was in a local public school, which I loathed. From the age of six I began what was to become a serious engagement with horseback riding and work at a local riding stable. I found work at the stable cleaning box stalls and grooming horses, before school, after school and over weekends. My engagement with the area of the sport of equitation developed into ten years of training  and competitive horsemanship.
I began formal work at Memorial Hospital of Queens at the age of 12, when I was able to be employed as a nurse's aide, engaged in all of the services provided by nurses' aides. I quickly found that my greatest interest was spent in direct service to patients, patients who were dying, patients who came to the hospital because of fires, assaults, accidents. Over the years I spent time in the emergency room, on surgical wards, and on OBGYN services.
Life Timeline and Curriculum Vitae
High School Years
1959 – Moved from Queens, NY, to Sutton Place South, New York, New York
1959-65 – Walden High School, Manhattan, NY
1959-65 — Also attended Mannes College of Music in Manhattan with harp, piano, and music theory.
Also attended French Institute in New York.
Also attended New School for Social Research.
Also attended Martha Graham Dance Studio.
1959          Volunteer work at Children's Center on 105th Street, an emergency placement center for child-ren removed from crime scenes. Three times a week.
1960    Volunteer work at Lexington School for the Deaf, swimming instructor.
LADO  Ladies' Auxiliary to the Doctor's Orchestra, fund raising for Juilliard's School of Music for young artists.
College and Post College Years
1965-68 – New College of Hofstra, Hempstead, NY
May 1965    Early admission
Jun 1967      Married
1967-68       Dissertation to finish college, independent study project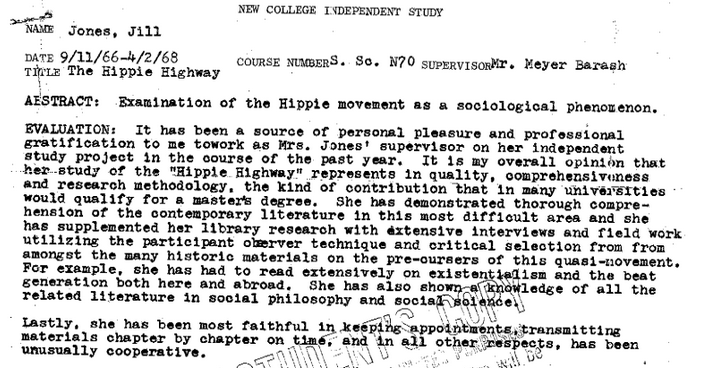 Jun 1968      Graduated from New College of Hofstra, finishing 4 years of college in 3
Jun 1968 – Aug 1970 Cancer Care, Park Avenue, New York, NY
Case aide trained to assess a level of nursing care assessment for patients in terminal stages of cancer and being maintained at home. Worked with children through seniors. Provided supportive psychotherapy services and home visits to verify care needs of terminally ill patients diagnosed with metastatic cancer. Cancer Care provided funding for various types of services and equipment
Jul 1969 – Woodstock, Harrisburg Music Festival
Retained by one of the sponsors of the concert (David Michaels, Esq.) to organize a group of young professionals as an intervention crisis team for the concert for four days. Various medical and social service were recruited to assist as a crisis intervention team associated with drug crises and any other interpersonal crises that might arise.
Education and Work Experience in the 1970s
9/1970- 6/1972 – Hunter College School of Social Work
Sep 1970 – Aug 1972
Master of Social Work program
Contemporaneous with Hunter College
French Hospital and Poly Clinic Medical Center in the Hell's Kitchen neighborhood
Sep 1970 – Aug 1971
Medical social worker for a number of in-patient and out-patient services, including post-hospital planning and concrete services for hospitalized patients in addition to supportive counseling with clinic patients. Awarded a stipend for short-term case work and crisis intervention with selected patients. Services included OBGYN services, family planning clinic, as well as general medical, alcohol and drug detox services.
Connected 3 patients who were acutely ill with rare forms of hepatitis with medical programs involved with research and treatment of these rare forms of incurable forms of hepatitis; followed these patients over the time I remained here.
Became the community spokesperson to advocate for expanded clinic hours and the development of the Head Start program
Instituted the engagement of Alcoholics Anonymous and Narcotics Anonymous ongoing in-service teams for their drug and alcohol detox services.
Columbia College Of Physicians and Surgeons, New York State Psychiatric Institute
Sep 1971 – June 1972
Formal Psychoanalytic Training.
Recommended and interviewed for the program in the general clinical service, treatment of families of hospitalized adolescents and young adult patients ages 16-21. Treated children in the children's services, which involved a range of disorders involving children with early onset schizophrenia and their families.
Engaged in in-service training with psychiatric residents, attended grand rounds, participated in meetings, specialized conferences on services throughout the hospital.
Involved in research in psychopharmacology and treatment of schizophrenia.
Functioned as a co-therapist with residents in treatment of adolescent patients.
Received individual case supervision with staff psychiatrists who were the treating staff at Columbia College of Physical And Surgeons Analytic Clinic as well as work with community service dealing with outreach and treatment services for patients who had been discharged or were involved in treatment community clinics.
Audit Attendance – Columbia College of Physical and Surgeons Analytic Clinic for Course attendance, Conferences & Supervision
Admitted through the authority of Dr Lothar Gidro Frank, the Medical Director 5th floor) General Clinical Service:
Practice Engagement
Clinical individual & Family Treatment of In Pt.  treatment
Assigned to 8 inpatients with treatment of individuals and families admitted for a variety of acute psychiatric diagnoses. I was afforded individual psychiatric and psychoanalytic supervision on each case and each aspect of the individual and family treatment, behavior treatment and psychopharmacology treatment
My analytic supervisors included such luminaries as Dr. Harold Searles, Dr Lothar Gidro Frank, and others, as well as neuropsychopharmacological experts  Dr's – Dr Frederick Quitkin, Dr Donald Klein, Dr. Patrick McGrath as well as Dr Alexander Glassman and Dr Edward Sachar
Attended Weekly Psychopharmacology Board Conferences held by Dr. Sachar and Dr. Glassman
1972-73 – Wiltwyck School for Boys, Ossining, NY
Jun 1972 – Sep 1973
Primary therapist for boys ages 7-16 from the South Bronx and Harlem who were in residential treatment at an inpatient treatment program in Ossining, New York. The delinquency diversion program involved intensive psychotherapy, psychopharmacology ( as required ), remedial education programs and sports program. . Psychiatric provision provided by child MD psychiatrists and psychoanalysts from Bronx, Lebanon Children's Psychiatric Center. Famed psychiatrist Dr. Salvador Minuchin MD developer of theory and practice of Structural Family Therapy taught and introduced the practice model of Structural Family Treatment to the Wiltwyck residential treatment program.
I Met with families of the children for which I was responsible in the  South Bronx, New York and Harlem, New York for ongoing family treatment, one day a week.
Unique programs in family treatment included training in the work of Dr. Menuchen and other innovative providers of services to adolescent populations challenged by issues of poverty, racism, abuse, and addictions.
In service training staff psychiatrists from Bronx Lebanon Hospital Children's Services; presented intensive seminars on child abuse, neglect maltreatment and the psychotherapy process with inner city youth. Family treatment seminars and supervision were held with Dr. Menuchen, Virginia Satir
In-service training through Albert Einstein College of Medicine: Teen Drug Abuse Treatment Differential Diagnosis, Early Childhood Depression and Treatment
1973 – Moved to Rockland County in Pearl River
11/29/1973-9/9/1976 – Rockland State Psychiatric Center, Orangeburg, NY
Nov 1973 – Sept. 1976
Clinical supervisor for the inpatient Adolescent Service under Dr. Jeffrey Beeson MD
Supervisor, team leader, group and family therapist of a 30-bed, male adolescent unit serving schizophrenic, and chronically disabled youths, as well as impulse-ridden adolescents with severe character disorders,  marked by anti-social features.
Outreach and Treatment Coordination for RPC discharged Clients in the Yorktown community.
Clinical responsibilities involved supervision of case aides as well as individual/group  treatment on the related in-patient, out-patient, and aftercare services for the age group 16-21 and their families.
In-patient services included admission screening, family treatment, group therapy, in-patient groups and multiple family groups coordination for psychosocial and behavior modification treatment plans, clinical supervision of three paraprofessional therapy aides, liaison with community agencies for coordination and planning of services for out-patient discharge planning; frequent court appearances were required for patients who were on involuntary commitment statuTes (refer to court appearance consultation section). Participated in psychiatric training seminars presenting clinical profiles and descriptions of psychotherapeutic treatment interventions for in-patients and their families.
Out-patient and aftercare work included community liaison and treatment as primary therapist with adolescent outpatients and their families through Rockland Community Mental Health Clinic in Yonkers, New York.
Cases of note included treatment of an adolescent young woman who presented as in a state of acute, chronic psychosis. Months of exploration uncovered the traumatic source of her psychotic state as having been the witness to the murder of a baby sibling. Work with this  young girl led to the  criminal investigation of her family and the arrest of the murderer. This client experienced a successful treatment outcome.
Additional notable incidents involved the uncovering of brutal discipline during night rounds in the form of corporal punishment administered to aggressively acting-out adolescent patients by night ward staff. Whistleblower activities began at Rockland with reports to hospital director Hyman Pleasure indicating inadequate staff training and supervision to manage the needs of a highly clinically disturbed population. The response of the administration with political  was to discharge patients from the adolescent and chronic schizophrenia hospital wards to the community programs, where these people ended up as helpless, homeless, vulnerable residents of the streets pushing shopping carts through their communities in Brooklyn and Manhattan.
Appeared in court in the capacity as the clinical supervisor of the adolescent service, in conjunction with the unit chief, to give testimony regarding 2 Physicians Certificate involuntary commitments, to request restraining orders against parents, visitation and/or request the appointment of a guardian ad litem in a case in which we felt that the parent/guardian was a serious danger to the welfare of the child. Serious danger consisted of 2 female parents who pursued sexual contact with their teenage sons in the course of inpatient care while on visitation with the patient.
POST GRADUATE EDUCATION 
HUMAN SEXUALITY – DIAGNOSIS AND TREATMENT OF SEXUAL DISORDERS NOV. 5TH, 1975 – APRIL 7, 1976 – 8 PM – 10 PM WED.
Contemporaneous Work Assignments :
Marymount College, Manhattan, New York, NY
Jun 1974
Lecture series: "Family Dynamics of Schizophrenia"
Columbia University, New York, NY
Oct – Dec 1974
Columbia Presbyterian Hospital Health
40 Hours Clinical Medicine Series
Doctor's Hospital, West End Ave, New York, NY
Aug 1972 – Sep 1975
Private Consultant to voluntary medical hospital. Responsibilities included crisis intervention and supportive counseling to hospitalized patients and their families focused primarily around medical illness and discharge planning. Clinical services included family groups tasked with long-term responsibility for patients with long term chronic illnesses related to dementia or debilitating physical illnesses such as ALS and Parkinson's, bereavement groups for families of patients who died in hospital. Supportive counseling around emotionally charged medical diagnostic issues, referral services to nursing homes or rehabilitation services.
Westchester Nursing Home, Mt Vernon, NY
May – Sept. 1975
Clinical consultation to nursing home serving organic brain syndrome and chronic schizophrenic patients referred by psychiatric hospitals and families. Consultation included psychosocial treatment planning, MD staff consultation, and supportive counseling of families.
West Milford High School, West Milford, NJ
Jun 1975
Career Day – The Many Facets of A Career In Social Work
Pearl River Guidance Center, Orangeburg, NY
Oct 1975 – Sept. 1976
Lecturer/Team Leader, Open House To The Community/ Organizer of multiple services to the adolescent population of the  Pearl River River Community
Division of the Orangeburg Narcotics Guidance Council
I responded to a request from the community to develop a program to provide services for a large population of unsupervised youth in the community. The program that became the Pearl River Guidance Center was located in an abandoned school that originally had no heat, hot water, or electricity. Eventually granted  a small budget to support utilities the spontaneously developed program began in the dark and the cold with community youth with no place to go but problems to be tackled. Donated food and young adult "cool"  volunteers  facilitated access to an abandoned building that evolved into a meeting / working program to tackle the provision of multiple services, activities and problem-solving resources without charge. A $600. per month budget eventually afforded heat and electric. Access to the building afforded the development of creative programs involving art, writing, music, public speaking, academic support, services, after-school counseling and academic support, movies.  Weekly guest lecturers and Open House to the Community involved speakers from Planned Parenthood, DARE, AA, Orangeburg police and fire departments, medical providers for adolescent medicine.
Services also included consultation to community agencies, schools, police.
The program was approved as a formal community program with a budget and a full time executive director (PHD Psychologist ) who was a colleague of mine, referred to the Orangeburg Guidance by me.
Ongoing Psychoanalytic Training
Personal Psychoanalysis cont'd.
Sep 1974 – June 1987
With William G Herron, PhD, Woodcliff Lake, NJ, total of 2400 hours.
Private Clinical Practice, Valley Ny – Sierra Vista Lane, Valley Cottage, NY
Sep 1975 – Oct.1976 – cont'd. –
Clinical and Forensic consultation for private law firms.
Psychosocial Diagnostic Evaluation of defendant and/or plaintiff as part of a legal defense team/criminal attorney office consultation to attorneys and their clients.
Interviews with clients, Manhattan Correctional Center and Brooklyn House of Detention.
Ongoing treatment of individuals and families – – Private Practice – Pearl River, NY – Focus on Sexual Dysfunction Treatment for Adults & Couples
Oct. 1976 Moved to Valley Cottage, NY
OCT. 1976- DEC. 1980 – New York State Psychiatric Institute
Oct.1976 – Dec.1980
Chief Social Worker, Affective Disorder Unit. Appointed by Dr. Edward Sachar MD involved individual supervision by psychiatric, psychoanalytic supervisors, staff of the Columbia College  of Physicians and Surgeons Psychoanalytic Program.
Patients were admitted with psychotic depressions that had not responded to psychotherapy, psychopharmacology, intensive psychotherapy. Patients treated with psychopharmacology and ECT and supportive psychotherapy. Patient's families were involved in treatment and assisted in understanding the  course of treatment for their family members but were also treated for their own sustained trauma and injury.
In- patients who did not respond to treatments provided through the inpatient service were then assigned to me for assessment, treatment and discharge planning. The "failure" patients responded well to my psychotherapeutic intervention and were all discharged to my private practice and ongoing treatment services with the support of ongoing psychopharmacology provided through psychopharmacologists at NYSPI.
Chief Social Worker – Treatment & Research Service – Borderline & Early Onset
Schizophrenic patients ages 15 to 30 years old – Long-Term In-Patient Treatment of male and female patients.
Treatment involved engagement with primary patients and family treatment of parents and siblings.
Teaching assignments to Social Work students and Medical residents in individual supervision and Seminar teaching, as well as presentations at Hospital Rounds and participation In Grand Rounds
Research/ Dr. Robert Spitzer MD  – Team Member in developing diagnostic criteria for:
DSM Borderline Diagnoses
DSM Panic Disorder/ Treatment of Endogenous Depression
Member of Research Committees:
Ethical Standards for Human Subject Research – Development of Disclosure Permission for Potential Subjects
Primary therapist on research-oriented chemotherapy ward for depressive and manic-depressive patients ages 15-30 and their families. Responsible for primary treatment of hospitalized patients presenting diagnosis of depression and character diagnosis of borderline and neurotic personality disorder. All those with borderline or schizophrenic diagnosis were hospitalized for short-term (6 months) within a research-oriented milieu of approximately 50 patients.
Attending Doctors, Otto Kernberg, MD, Director of Clinical Services; Alexander Glassman, medical attending of the depression research service.
Clinical supervisor for three second-year graduate students in social work. Clinical responsibilities included supervision of two social work students from Columbia University School of Social Work, acting as senior staff for B team, and participation in staff development, via in-service training seminar.
Attended weekly analytic supervision seminars with residents, as well as in-service training to residents for medical board preparations. Case presentations weekly / monthly, attending services directors.
Attended daily supervision per primary patient with MD analytic / psychopharmacological MD treating staff.
Teaching responsibilities included lectures in clinical psychiatry and social work for psychiatric residents and medical students in monthly seminars on family treatment. Developed a course on role playing as a diagnostic tool with attending on depression services, Unpublished paper presented to in-patient teaching seminar: "To Know Your Patient Become Your Patient."
Appointed to multiple committees on human research related to developing ethical standards and diagnostic criteria, including developing DSM-3 diagnostic criteria directed by Dr. Glick.
Depression Treatment Service – Frederick Quitkin, MD, and Donald Klein, MDs: Patients referred to the service were proven unresponsive to all forms of treatment, analytic psychotherapy, ECT. Patients were admitted without any charge for drug trials of tricyclic antidepressants and clinical treatment. My role was to 1: therapeutically support the research; 2) If patients were unresponsive to medication, continued to be depressed, my role was to provide psychotherapy patients who were referred for evaluation/treatment/post hospital care.
Appointed to the Institutional Review Board to Review Clinical Research.
Appointed to the Utilization Review Board for Hospital Services and Programs review
Contemporaneous with NYSPI
1976 – Divorced, moved to Valley Cottage, New York
TEACHING* & TRAINING
Fordham University School of Social Work*
May 1977
Lectured on social work careers in private practice: "Guidelines for Social Workers Seeking to Engage in Private Practice."
New York Medical College
Dept. Of Psychiatry
Flower and Fifth Avenue Hospitals
Fifth Ave. – 106th. St. NY 10029
Nov. 5, 1975 – April 7, 1976
Department of Psychiatry – Human Sexuality/Dysfunction,  Child Sexual Abuse. Instructors – Dr. Virginia Sadock, M.D., Dr. Ben Sadock, M.D.
Alcoholics Anonymous
Oct 1976 – June 1978
Clinical training, Internship, Independent Study, Mentor Program – ALATEEN Program,
AL ANON
Program & AA Open Meetings
1,000 Hours, Brooklyn ADA Supervisor – Thomas Davenport, Esq.
*Columbia University School of Social Work, New York, NY*
Sep 1976 – June 1977
Clinical supervision for second year graduate students in social work
Center for Modern Psychoanalytic Studies – Analytic Institute,
Sep 1977 – June 1978
Director Dr. Hyman Spotnitz, M.D. – Psychoanalytic Theory and Technique
American Arbitration Association, New York, NY
Aug 77 – Oct 78
Mediation/arbitration training, 40 hours seminars and supervised mediation
Mountain Peak Montessori School, Vernon, NJ*
Sep 1977 – Aug 1979
Provided consultation to parents of children who evidenced behavior disorders or appeared troubled in class.
Appointed to the Board of Directors for confidential clinical consultation for child students and family members.
*Columbia University School of Social Work*
Sep 1977 – Dec 1980
Lectured in social work.
Ongoing Personal Psychoanalysis
Sep 1974 – June 1987
With William G Herron, PhD, Woodcliff Lake, NJ, total of 2400 hours.
Education, Work Experience, and Certifications in the 1980s 
JAN. 1980 – PRIVATE PRACTICE  VALLEY COTTAGE, NEW YORK
BKLYN HEIGHTS, NY  – 5/1980
The clients acquired as a result of highly successful work with patients who were considered treatment "failures" as per the work of the inpatient service, provided a solid, full-time basis for a private practice in psychotherapy and psychoanalysis.
Referrals by colleagues and supervisors at NYSPI and Surgeons Columbia College Of Physicians continued to support my personal career and allowed me to engage in further psychoanalytic training on a full-time basis
JAN. 1980-  – Full-time Private Practice – NEW YORK
Private practice at 201 East 28th St, New York, NY
5/1980 – 11/1985 – 1987
Private Practice NY – 3 Hanover Square, New York , NY – 1986
&
Private Practice NJ – 35 Rockburn Pass, West Milford, New Jersey 1987
Psychoanalysis and psychotherapy. Individual, group, and family treatment
5/1980 -9/1980       Brooklyn Heights,  NY. –
1982 – Moved from Brooklyn Heights, New York,  to Edgewater, NJ,
Private practice at 1203 River Rd, Edgewater, NJ 07020
9/1982-
Operated this private practice while maintaining the private practice at 201 East 28th St, New York, NY
CONTEMPORANEOUS WITH PRIVATE PRACTICE
 PSYCHOANALYTIC INSTITUTE TRAINING
College of Physicians and Surgeons, Columbia University, NY
Analytic Reading Seminar, New York, NY
1979-1981
Complete Works of Sigmund Freud and Neo Freudians, directed by Oscar Saks, MD
Washington Square Institute for Psychoanalysis and Psychotherapy, New York, NY
Sep 1979 – Jun 1981
Course work, student analyst – Assigned patients to the analytic clinic, participated in supervision program, treated four patients
*Institute For
The New Jersey Institute for Psychoanalysis and Psychotherapy                                 
9/84 – 12/86
Coursework: Analytic Supervision with three supervisors
————————————————-
*Institute for Advanced Training in Psychoanalysis and Psychotherapy, New York, NY
Sep 1982 – Jun 1986
PhD program, Analytic Training
Dissertation: "The Philosophy of Psychoanalysis: Challenges to Confidentiality For Patients Engaged in Psychotherapy and Family Therapy Collaterally – Masks and Mysteries not Mingled"
I learned in 2003 that the accreditation credentials of the Institute for Advanced Training in Psychoanalysis and Psychotherapy could not be confirmed.
———————————————————————————-
Ongoing Personal Psychoanalysis
Sept. 1974 – June 1987
William G Herron, PhD
Woodcliff Lake, NJ, total of 2400 hours.
*AMA Specialized Training
Oct 1987
Certification as a Forensic Expert
(Married 7/1985/Widowed 8/1994 )
Moved to 3 Hanover Square, New York, NY 9/1985 )
Private Practice, Certification, and Lectures in the 1990s
Expansion of Private Practice
Psychotherapy and psychoanalysis, Family and group treatment, children and adults.
Consultation – Diagnostic Evaluations/ Witness Preparation for Depositions / Assistance with Discovery – for private law firms. Psychosocial Diagnostic Evaluation of defendant and/or plaintiff as part of the defense team. Cases have involved murder, marital disputes, alleged husband/wife battery, incest/custody deliberations, mental state evaluation regarding murder suspects and drug importers, appointment of guardian ad litem for mentally incompetent individuals. Evaluated letters from individuals who committed suicide via referrals from Private investigators and law firms.
Assistance regarding SSI applications as part of permanent disability evaluation.
Wrote diagnostic evaluations and appeared at depositions, hearings, trials, and various court proceedings. Evaluations of emotional consequences of traumatic events in court testimony as an expert witness.
Differential Diagnostic Treatment Recommendations.
Malpractice suits.
Job discrimination and sexual harassment cases, federal civil rights, federal court, consultant to private investigation films for evaluation of suicidal clients regarding review of records to determine the suspected cause of suicide.
Court Evaluations for private engagement.
Private forensic evaluations profiling for  private investigation firms,  attorney cases involved in malpractice. Job discrimination, civil rights violations, PTSD evaluations for court litigation – Superior Court and Federal Court. Certified to diagnose parental alienation as a forensic specialist, alcohol, drug abuse, Domestic violence, and sexual abuse evaluations.
Expert witness testimony. Oversight of case analysis, strategy and planning with a focus on psychodiagnostic, psychodynamic, understanding, as such understanding enhances and facilitates concepts of institutional functioning, standard of care and public policy. Within the purview of such conceptual constructs, the areas of consultation undertaken included adoption services, case evaluations involving incest, child abuse, child murder, as such cases arose within such agencies as juvenile justice, "child protective services," and family courts across the country.
Contemporaneous with Private Practice
West Milford High School, West Milford, NJ
Jun 1996
Lectured in 3 seminars for senior students on career day. Subject – careers in social work and psychotherapy private practice.
Forensic Training and Certification, NAFC, AFCC
Sept. 1997 – Ongoing – Courses, Lectures, Private Supervision to develop expertise
Domestic Violence Diagnosis and Treatment – Certified Drug & Alcohol Diagnosis and treat Parental Alienation in High Conflict Divorce, Diagnosis and Treatment of Personality disorders.
College of Physicians and Surgeons, Columbia University
Sep 1997 – Dec 1998
Lecturer in Clinical Psychiatry
Strengthen Our Sisters, West Milford, NJ
Sept. 1999
Specialized Training in Diagnosis and Treatment of Domestic Violence Seminar
Clinical Support to Volunteer Staff
Employment, Consultations, and Trainings Given
Strengthen Our Sisters, West Milford, NJ
Feb – May 2001
Consultation to Strengthen Our Sisters. Treatment, consultations, and evaluation with residents of battered women's homeless shelter (women, teens and children). Forensic consultations and court appearances as a Forensic expert in the area of domestic violence and battery syndrome.
My Therapy Network
Feb-Oct 2001
Online and phone counseling and Crisis Intervention operated by – Gary Goldman, PhD
Counseled during the September 11, 2001 national crisis
Families In Transition ("F.I.T.")
Sep 2001 – Dec 2002
Consultant to Therese Ambrosino, founder and director of this 501(c)3 nonprofit serving the high-conflict divorce population with issues of domestic violence, abuse, serious psychopathology, indigent spouses. Provided treatment assessment, psychoanalysis, and therapeutic mediation. Mediation by court appointment for parenting/custody arrangements. Private consultation with attorneys. Patients seen in individual treatment, psychotherapy, psychoanalysis, family treatment and group treatment. Consultant to the director on case management. Clients came to F.I.T. for assistance in finding referrals to  therapists in the community who would work with Families in Transition case management counselors in the area of providing therapeutic mediation, psychotherapy, public education, parenting course, supervised visitation. Clients were referred to therapists and mediators in the community. The agency provides case supervision and referral services, mediated disputes between therapists and clients.
Formulated and implemented the mission for this nonprofit: To provide alternative interventions to litigated divorce of any form on non-cooperative parenting
——————————————————————————————
The Case Of Islam Elkaryoney  – Sept. 1999  – Present
Volunteer Advocate For A DV Victim Began My Education Into Family Court Corruption & The Transfer Of Children Into The Custody Of Abusers Via The False Narrative Of The Richard Gardner Md Parental Alienation Concept Adopted By Family Courts As Of The 1980's
Islam Elkaryoney – Dob 6/17/1993 -Dod – Oct. 25, 2005
Career Game Changer, Refer To The Book, "Family Court Corruption: Speaking Truth To Power & The Consequences Thereof."
Jill Jones Soderman Challenges Judge Margaret Mary McVeigh – Patterson, New Jersey. See "The Court Arena As The Crucible Of Corruption: Judge Margaret Mary McVeigh" on the FCVFC website.
Retaliation By Margaret Mary McVeigh Against Whistleblower Jill Jones Soderman. False Allegations By Margaret Mary McVeigh to The New Jersey Licensing Bd. By Margaret Mary McVeigh  and parental alienation  Evaluator Paul Dasher. Refer to book.
Career As A Forensic Expert & Court Advocate – 2003
LCSW – SW "P" LICENSES – NY, NJ, AZ, TX
Private Consultations To Law Firms, Private Investigators And DA's Offices In New Jersey
Ralph Fava Esq.  – Prosecutor For 5 Counties. Consultation And Support For 501 (C ) 3 Non-Profit Development.
FIT – Families In Transition 501 ( C ) 3 Non-Profit
Consultant And Assistant In The Development Of The Program  As Well As Provider Of All Clinical Evaluation, Treatment And Organization Of Speaking Programs At Newton Memorial Hospital. "Taking The Pain Out Of Divorce" – Article
Described collaborative work joining courts, community, local hospital and professionals to resolve high conflict divorce/ custody litigation. The FIT program was so successful that it was adopted by the Sussex County court as a mandated program.
Certifications and Other Trainings

*Mediation and Conflict Resolution
Apr 2003
Certified through Association for Conflict Resolution.
Diagnosis of Parental Alienation as a Forensic Expert
Oct 2002
Certified through Specialized Training Institute In Parental Alienation, Douglas Darnell, Ph.D., Mark Dekumoran, Ph.D. Certified to perform Evaluations for Custody Best Interest and Psychosocial Diagnostic Evaluations Specialized Training Institute.
Whistle Blower  Articles About Jill Jones Soderman
Sabbatical 2/2005 – 2005 -Post Graduate Training / Public Speaking / Book Publishing / Editing / Private Practice, Book Editing
"At The Mercy Of The Court" – – Robert Coleman
"The Dance Of Defiance" – Nancy A. Hagener
Book Author
"How To Speak With Your Children About Your Divorce" – Jill Jones Soderman – Allyson Quattrocchi Esq.  – The Family Mediation Center
Public Speaking
Volunteer Work: Planned Parenthood – Teaching Teens About Safe Sex / Birth Control And Domestic Violence, Body Positive – Support For Families Caring For HIV Positive Parents  / Children, Private Practice Of Psychotherapy / Psychoanalysis / Family Therapy
Collaboration With Medical Practices / Lawyers: Dr. Louis Trunzo Md – Paradise Valley, Az., The Family Mediation Center – Phoenix, Az.
Continued Education – 2005 – 2006 – Arizona Sabbatical
9/18/–9/20/2006 – Forensic Training Institute, Las Vegas, Nevada  2006
*Phd Program Admission – Union Institute 2005
Colloquium -*MSHS – Forensic Expert Witness Testimony & Public Health Administration -Graduated Magna Cum Laude
Law & Expert Witness Testimony
Az – 2005 – 2006
Attended AFCC Conferences / Lectures/ Family Court Conferences In Az & Las Vegas 2005 – 2006
Volunteer Work: Animal Rescue, Caring For Abused And Neglected Pets – Dogs – Cats – Rabbits, Rescued From Homes Where Animals Were Used To Coerce Children Into Compliance. Hospice Care For Horses…./ Home Stable
Interdisciplinary Doctoral Program
Disciplines:  Psychoanalysis and Forensic Evaluation Process
Admitted to Union Institute PhD program, based on the pre-approval of a PhD thesis in comparative court systems prepared under the supervision and direction of Dr Peter Proehl, dissertation supervisor, source of referral to the Union Institute program for independent study in the area of forensic science. Dissertation: The Violation of Civil Rights in Family Court Proceedings Across the Country.
As of July 2006, Colloquium at Union Institute and University, the interdisciplinary independent study program that I had been accepted to and had been attending, was discontinued without notice. I then enrolled in another program that was substantially different from the program I expected to attend. I withdrew from the program and began the PhD program at Touro.
Dissertation Topic: Divorces as a Public Health Crisis The Violation of Civil Rights in Custody Proceedings – Residential Effects to the Population.
Master of Science in Health Sciences – Forensic
2005 – ……DEC. 2008
Touro University International, Cypress, CA
Law & Expert Witness Testimony.
Differential Diagnosis/Drug & Alcohol Assessment
Apr 2008
NAFC Certification, Certified Drug Treatment and Prevention Specialist, Clinical psycho-pharmacologist
Arbitration/Mediation Training
Sep 2005 – Sep 2007
Touro University International, Cypress, CA
Present Expert Witness Testimony, Forensic Program, MPH completed
Institute for Dispute Resolution of New Jersey,
Mar-Apr 2003                         –
Divorce/Mediation Training Program, Sam Margolies, PhD., Esq.
—————————————————————————–
Forensic Practice Training
Nov 2007
Child Custody Conference, New Brunswick, NJ,
"Current Practice in Custody Evaluations," presented by New Jersey Institute for Continuing Legal Education
Association of Family and Conciliation Courts Chapter Conference
Feb 2005
Mental Health Providers Eighth Annual Training
Jan 2005
Family Court Dept, Phoenix, AZ
Specialized Training Services, Santiago, CA
Oct 2002
Seminar "High Conflict Divorces: Conducting Child Custody Evaluations," presented by Marc Ackerman, PhD
Seminar "Conducting Child Custody Evaluations," presented by Douglas Darnall, PhD
Move to Nyack, NY  2006 – 2011
Consultant to The Thorpe Family Residence, Inc.
Dec 2006 – Jun 2007
Counseling for residents of this transitional facility for sixteen mothers with children and one permanent supportive facility for twenty families for domestic violence issues.
Best Interest of the Child
Oct 2007
Retained expert for court appearance, Judge Garvey, Nyack, NY
Retained As a Court Consultant to JUDGE … Newton, New Jersey
Consultation to Pediatricians – West Milford, NJ
1994 – 2005 – Dr. Louis Pupo MD
Accurate Differential Diagnosis & Treatment
2005 – 2006 – Paradise Valley, AZ. – Dr. Louis Trunzo MD
Practice Consultations
Referrals – Child Patients  – Abuse, Sexual Abuse, Oppositional Defiant Disorder
Thorpe Family Residence, Inc., Bronx, NY
Mar 2009 – Jun 2010
Clinical Evaluation Program Development, Community Liaison Supervisor to case Worker staff and Lehman College Social Work Master's Program Student
Lehman College School of Social Work, Bronx, NY
Sep 2009 – Jun 2010
Graduate Supervision MSW Students
Trainings and Lectures
Training in Parenting and Divorce Mediation
Statewide Family Connections, May 2003 – present
Lecture Speaker re: Expert Witness Evaluations – Court ordered or independently sought by parent.
Specialized Training Institute in High Conflict Divorce Mediation, Sep 2000 –  present
Evaluation forensic specialty course work – Specialized Training Seminars.
Families In Transition, Sep 2001 – Dec 2002
Lecturing at workshops and seminars on impact of high conflict divorces on children and Parental Alienation.
Topics of lectures: "What is Parental Alienation? And what Parents can do to prevent Child Alienation, the do's and don'ts"; "Custody Evaluations"; "Best Interest Evaluations"; "Impact of Divorce on Children"; "Psychosocial Diagnostic Evaluations"; "Group Discussion, Questions and Answers Forum"; "The Art of Compromise/Respecting Parenting Time"; "Men's Issues, The Healing Process"; "Women's Issues, The Healing Process".
Families In Transition, NJ, Mar 2002
Seminar on High Conflict Divorce – Impact on Children, Parental Alienation
Active Parenting Curriculum, Jan-Mar 2002
Seminars presented by Families in Transition
Course covered parenting skills for toddlers and children ages 2 to 12, and Adolescents 13 to 18, by Certified Parent Educator Therese Ambrosino.
Parents Power Academy, NJ, Feb 2002
Course Instructor for Accurate Differential Diagnosis
Parenting Education Classes, Jan 2000
Age 1-5, 5-10 adolescents.
Training in Human Sexuality and Sexual Abuse
Society for the Prevention of Cruelty to Children – New York, NY, Mar 2006
Child Abuse Detection/Reporting. Child Abuse Maltreatment and Neglect, Online course on child abuse and neglect
Body Positive – Camp Facility, Tucson, Arizona, Jul-Aug 2005
Parenting Classes and Muti-Family Groups conducted for families living with AIDS (adults and children infected with the AIDS virus)
Mental Health Providers' Eighth Annual Training, Jan 2005
Family Court Department, Sexual Abuse Allegation – Diana Vigil, L.P.C.
Hewitt, New Jersey 2/2011 – 5/20/19
Greenville, South Carolina – 5/2019 – Present
Public Speaking

Panel Discussions
The Madison Ann Cundiff Foundation, Elizabethtown Kentucky, Oct 2009
Christian Academy of Elizabethtown – "We Speak for the Children Lost But Not Forgotten – Institutional and Governmental Fraud and Abuse of Power"
This Foundation's mission: "First and Foremost, to assist if required, our law makers and others to improve laws and regulations concerning children's safety and "Right to Life." As funding is available, we will also assist families of murdered children with the funeral expenses of the child and/or educational expenses of the victim's remaining sibling. It is first and foremost the most traumatic life-changing challenge for a family to face the loss of a child but the burden of not being able to properly bury that child is unbearable. Because of added expenditures on the victim's family, it is also impossible at times to send remaining children to college to further their education. As funding becomes available, this organization will also make available emergency funding to "Domestic Violence" shelters for the purpose of meeting the needs of children staying at the facilities as deemed necessary for their care and well-being; Also, at a date which is yet to be determined, The Madison Ann Cundiff Memorial Foundation, Inc. will set up and along with co-sponsors of local business owners, the "BeeSafe Kids" program across the Hardin County Kentucky Area to start; and will offer all children a safe alternative to report abuse or safety issues to someone who can and will contact the appropriate officials on the child's behalf and also keep the child safe until help arrives. We will also pursue and help acquire funding for Safe Child Oriented Areas within our communities. Our true MISSION is to provide alternatives to help keep our children safe and to remove a small part of the tragedy of child loss and abuse, and also to let the victims know that they are important!"
The Pre-Law Club of New York College, Queens, NY, Jan 2008
Bringing Human Rights to the Child Welfare System – Forum and Tribunal
The Foundation for Child Victims of the Family Courts, 2007
"Institutional Abuse foster care / residential treatment / psychiatric hospitals," Nov 2007
The Impact of Conflict on Children "The Litigation Process – An Event or a Lifestyle," Oct 2007
Panel Discussion/Movie, Garland Waller's "Small Justice" – Small Justice in the Family Courts, Mar 2007
Nyack Library, Nyack, NY, Oct 2007
Panel Discussion on Mediation/High Conflict Divorce
The Nyack Center, Nyack, New York, 2007
Panel Discussion on High Conflict Divorce, Oct 2007
Panel Discussion: Debating Richard Gardner on Parental Alienation, Aug 2007
Experts by Experience, Blauvelt, NY, Jan 2007
Panel Discussion: "Transfer of Children for the Protective Parent into the Hands of their Abuser."
Book signing: "How to Speak to Children about Divorce"
Other Public Speaking & Media Appearances
Arise TV News, New York City, Dec 2014
TV Guest Appearance
Martinsburg Church of Christ, Martinsburg, WV, Aug 2008
"Foster Care & Adoption Case Agency and Government Fraud – Abuse of Power"
California, Texas, Utah, New York, New Jersey, United Kingdom, May 2008
Guest speaker, Interdisciplinary collaboration meetings on litigation and civil rights issues.
Radio Show WALE Station 990AM, Jul-Sep 2001
Host of weekly radio show "Law is Not Justice"
Blog Talk Radio Shows
Citizens Demanding Justice  – Walter Davis – Producer
NAASCA – National Association Of Adult Survivors Of Child Abuse – Bill Murray – Founder And Director
Predator In Possession – Special Angels Productions Of The FCVFC
Professional Memberships
AFC
NAFC
NAASP
NASW, New York
ACSW, New York
ABEESCW, New York
My Therapy Network, Encinitas, CA
NYSS of Clinical SW Psychotherapy
NOW
NIP
NYSPI, Alumni Association
GLENSTEN, New York State Alumni Association
Planned Parenthood
New York Psychiatric Institute
Families In Transition
Statewide Family Connections, N.J. Parents Caucus, Inc.
Activities & Special Projects
Madison Ann Cundiff Foundation, Elizabethtown, KY, Sep 2008
Advisor/Foundation Support in the Development of this nonprofit; Advisory Board Member
Great Hearts of Fire Foundation, Dec 2005
The Great Heart Project – Acknowledging individuals of remarkable character.
Wrote Proposal to Legislative for staffing needs for service to special needs children.
Book, Articles, and Other Writings
Book
How to Talk to Your Children About Divorce, Family Mediation Center Publishing Co, 2012.
Co-Authored with Allison Quattrocchi
Published Articles Of Distinction
"The Family Bed," Country Kids Magazine, Sep 2003
"The Senior Prom," A-Z Kids 2 Teens, Apr 2005
What to Tell Children about the Decision to Divorce, Family Mediation Press, Scottsdale, Arizona, 2005
"Not Victim – Expert by Experience," The Nyack Village, July 2007
"The Necessity of Knowing the Law," expertsbyexperience.com, Aug 2007
When Madness is the Psyche's Only Nurse – The grief experienced by people who have been wrongly accused of abusing/neglecting children – custody has been removed or children have died as a result of forced custody relinquishment through "protective services"
Legal/Psychotherapeutic Management of the Most Difficult Patients – Loss of Trust Related to Abuse-psychotic transference in an intra-psychic phenomenon which occurs. I believe and intend to demonstrate through research and evaluation that this phenomenon occurs whenever an individual who has been subject to severe/prolonged abuse is placed in a position of having to rely upon and trust an individual in an authoritarian position. The issues of "Who Can I Trust – Who Will Believe Me" and the vulnerability of the professional working with the client are Issues that create dilemmas in treatment and in court litigation processes
"Empowering Victims – Ramification of Fifteen Minutes of Fame" – Article prepared for July 2007 panel presentation and discussion
"Children speak to Parents about Divorce Experience" – Oct 2007
"An Anthology of Children's Writing on their Experience of Divorce" – Oct 2007
"Serious Disorder in the Family Court," May 2008 – The use and abuse of mental health services, Psychiatric mental health evaluations, psychiatric hospitalizations to discredit, Humiliate and retaliate against clients entangled in family court proceedings